NEW ÖHLINS FGR 400 FRONT FORK SETS IMPRESSIVE NEW BENCHMARK FOR SUPERBIKE SUSPENSION TECHNOLOGY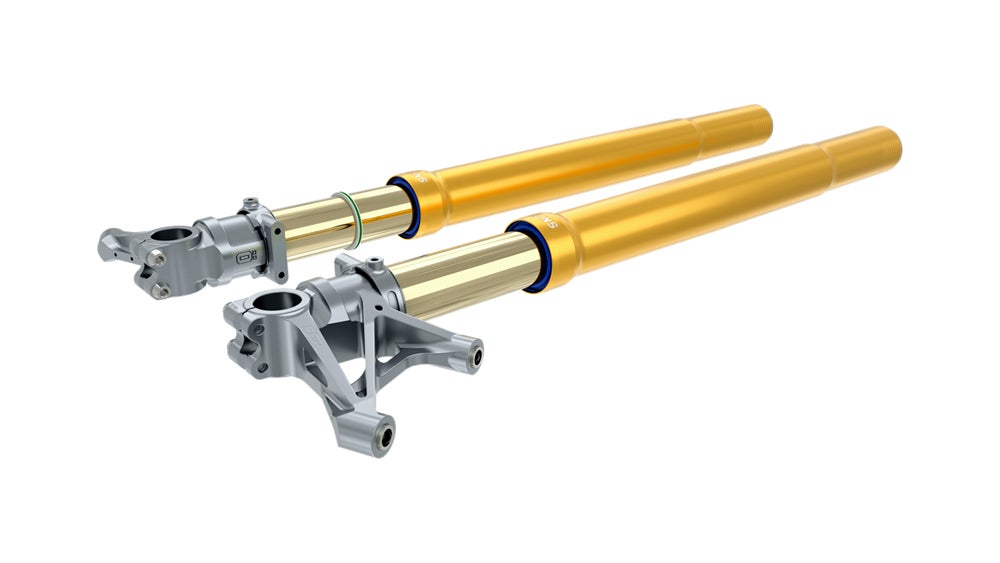 Developed through insight gained in World Superbike competition, new fork offers superior damping capabilities in streamlined, weight-optimized form
Öhlins Racing business today introduced a highly advanced, spring pressurized front suspension fork that establishes a new benchmark for performance and control in superbike competition.
Developed through the Öhlins engineering team's deep experience in World Superbike racing, the FGR 400 fork features an ultra-low-friction, spring pressurized damping system that offers significantly greater damping control than previous fork designs. The new front fork also is weight optimized and offers a leading-edge design that helps racing teams match damping characteristics and control to changing track conditions. Spiderweb-style fork bottoms provide both the enhanced strength and weight savings required for podium-worthy finishes. The FGR 400 fork's 46mm inner leg, ideally suited to both World Superbike and MotoGP racing, offers greater stability while braking.
"The FGR 400 provides an exceptional feedback and response, increased strength and superior damping capabilities that enable the rider to confidently push the envelope at every stage of the race," said Robert Brinkmark, two-wheel director of sales, marketing and product management, Öhlins Racing.
Unlike its predecessor, the FGR 400 features both the brand's race-proven TTX twin-tube technology, which precisely controls oil movement throughout rebound and compression, and NIX technology, which separates the rebound and compression circuits for true independent tuning. In addition, redesigned top caps relocate the adjusters for rebound and compression damping to the tops of the fork legs, with spring preload, for increased accessibility.